Patient's Information
Age: 60s
Gender: Male
Conditions and Symptoms
Patient's Condition
Since around 2012, the patient has been suffering from nerve pain in the calves of both legs, when walking. He has also been experiencing lower back pain during the same period. Since there was no sign of symptom improvement, the patient decided to seek medical help at our clinic.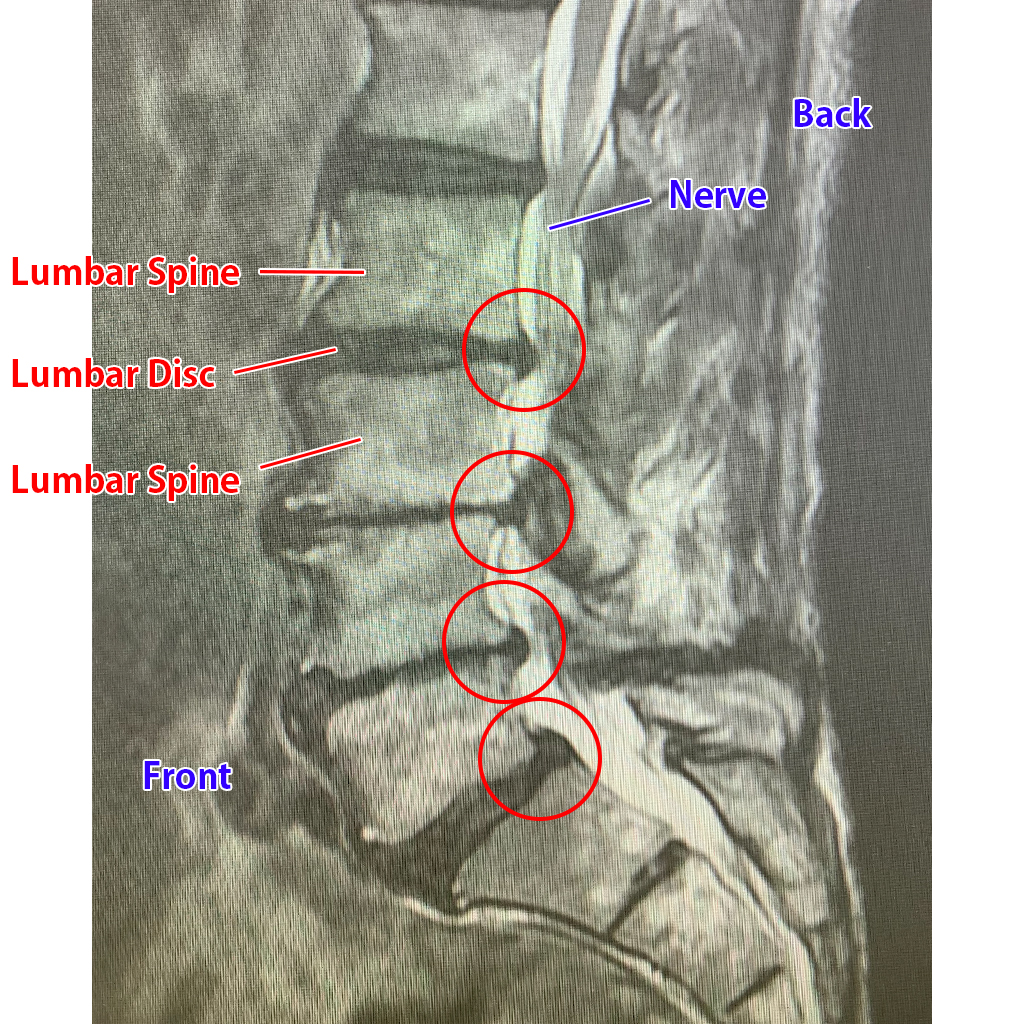 The MRI examination of the lumbar region revealed a serious thinning of the intervertebral discs of the entire lumbar area extending from the second lumbar vertebra L2 to the sacrum S1, spanning the entire lumbar area. The discs have lost more than 70% of their volume with signs of deformation and narrowing of the spinal canal. The diagnosis was degenerative disc disease and spinal stenosis.
Treatment Content
Discseel Procedure (DST)
The patient underwent examinations and Discseel Procedure (DST) was performed on the four severely damaged intervertebral discs (L2/L3, L3/L4, L4/L5, L5/S1).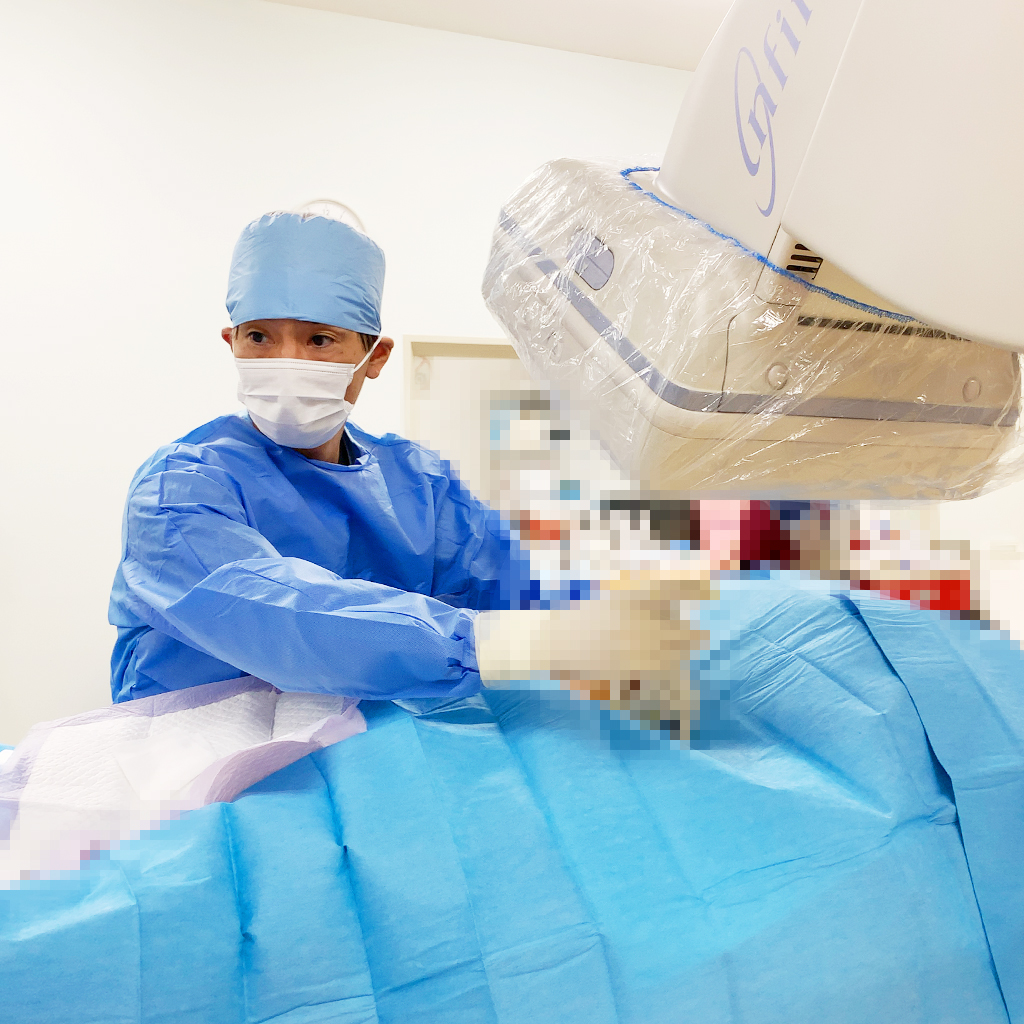 It was a busy morning, so I was the only doctor in charge of treatment. The patient was put to sleep with sedation.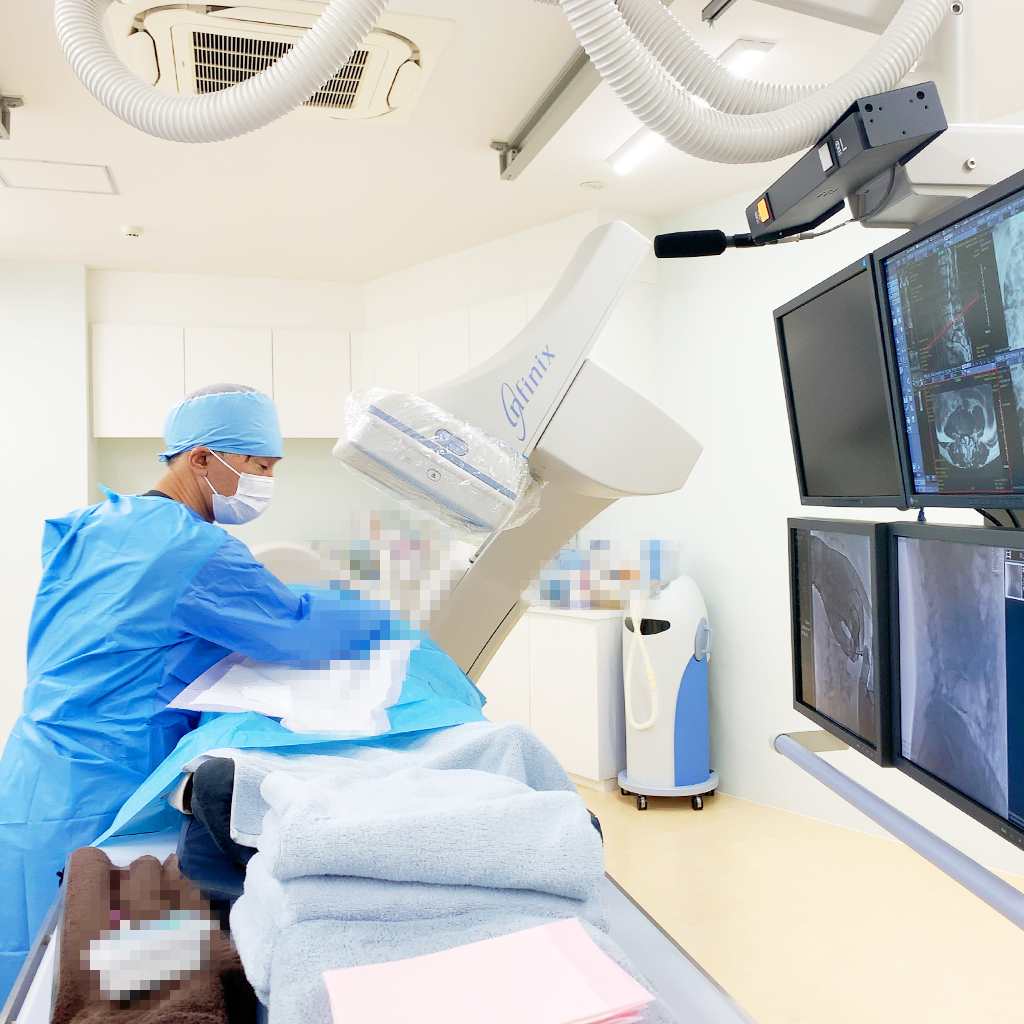 While monitoring the screen, the needles were inserted into the collapsed intervertebral discs.
The video shows how an intervertebral disc is being examined. The part of the disc that turns dark is the damaged area. Performing the Discseel Procedure (DST) took about 16 minutes. All 4 discs were inspected and treated.
A Message from the Clinic`s Director
This June has been the busiest month in the past five years. With the easing of the COVID-19 situation, we have a record high number of local patients, together with an increasing number of patients from overseas. As a result, I believe the monthly number of treatments will easily exceed 100 cases. To minimize inconvenience for patients seeking treatment, we are expanding our staff and providing education to the treating physicians, aiming to reduce waiting time as much as possible.
By the way, the Hanshin Tigers won the Kansai Derby against Orix yesterday. We are hoping for more wins.
About the Author
Clinic Director Dr. Yasuyuki Nonaka
NLC Nonaka Lumbago Clinic offers medical treatment with a combined focus on the spinal conditions that cause low back pain. By introducing advanced treatments from all over the world, we are able to expand the treatment options for patients suffering from back and other spinal diseases, and propose treatment solutions tailored to their symptoms and conditions. Staying focused on diseases such as disc degeneration and disc herniation that cause spinal canal stenosis and back pain, we provide treatments that are less burdensome for elderly patients, for patients considering reoperation, and those seeking to return to society in a short period of time.
Achievement:5,034 Cases
2018.Jun. - 2023.Aug.
---