Patient's Information
Age: 50`s
Gender: Male
Conditions and Symptoms
Patient's Condition
The patient was diagnosed with disc herniation about four years ago. However, since around August of last year, he started experiencing lower back pain and nerve pain radiating from the buttocks to the legs the day after exercising. This year, his symptoms have shown little improvement, and he decided to seek treatment at our clinic due to the onset of back pain while walking.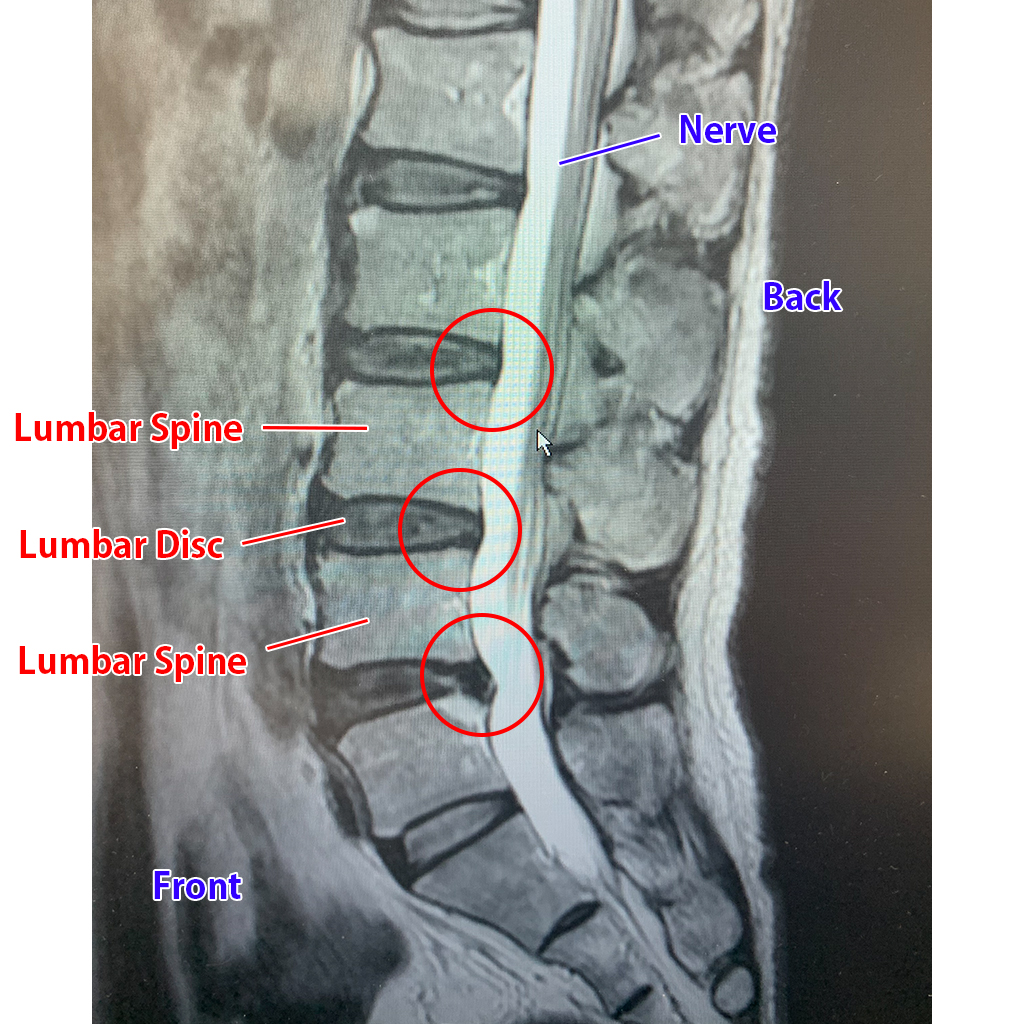 The MRI examination of the lumbar region revealed darkened intervertebral discs between the first L/1 and fifth L/5 lumbar vertebrae, which indicates degenerative disc disease. The disc between the fourth and fifth lumbar vertebrae L4/5 showed clear reduction in volume and a protrusion-like deformity, diagnosed as disc herniation.
Treatment Content
Discseel Procedure (DST)
Examination and treatment were simultaneously performed on three damaged and discs that were the cause of the inflammation (L2/L3, L3/L4, L4/L5).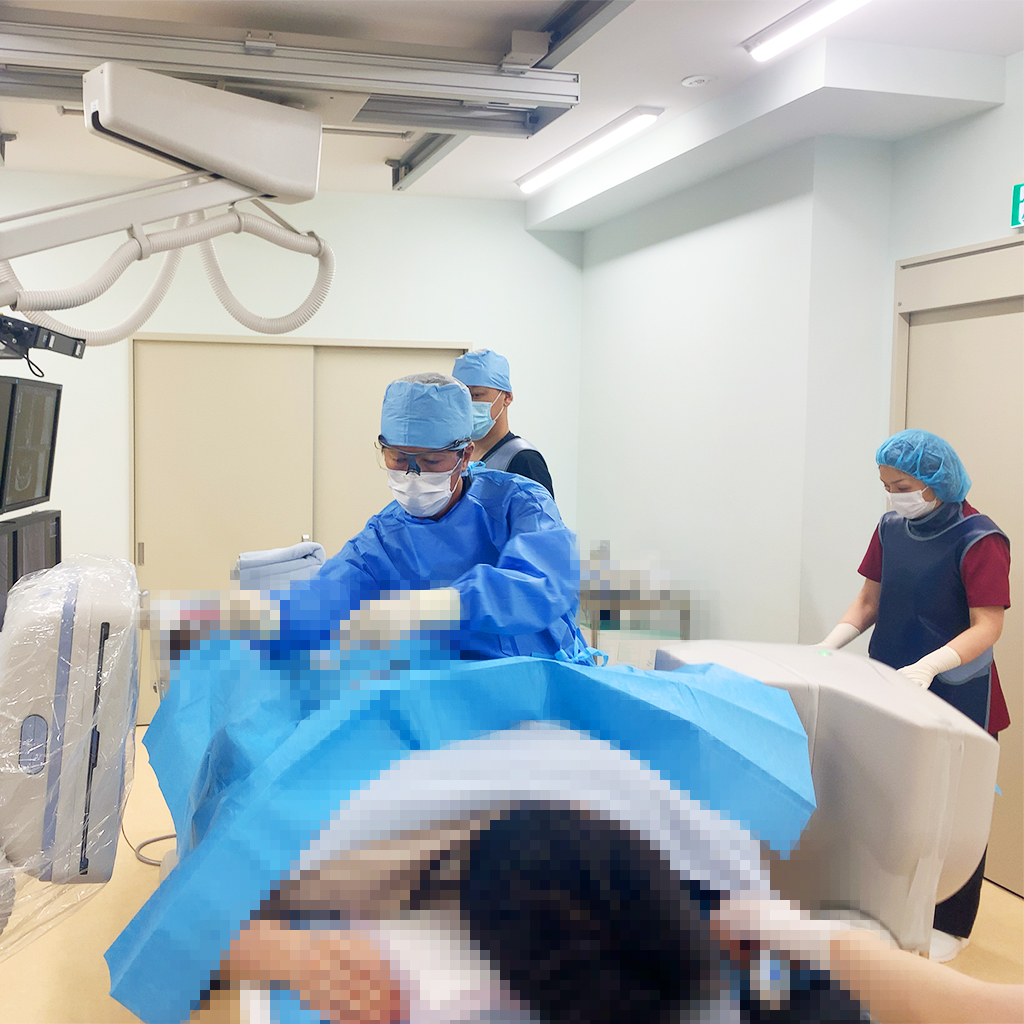 We have started the treatment using only local anesthesia. On the photo the anesthesia is being administered carefully.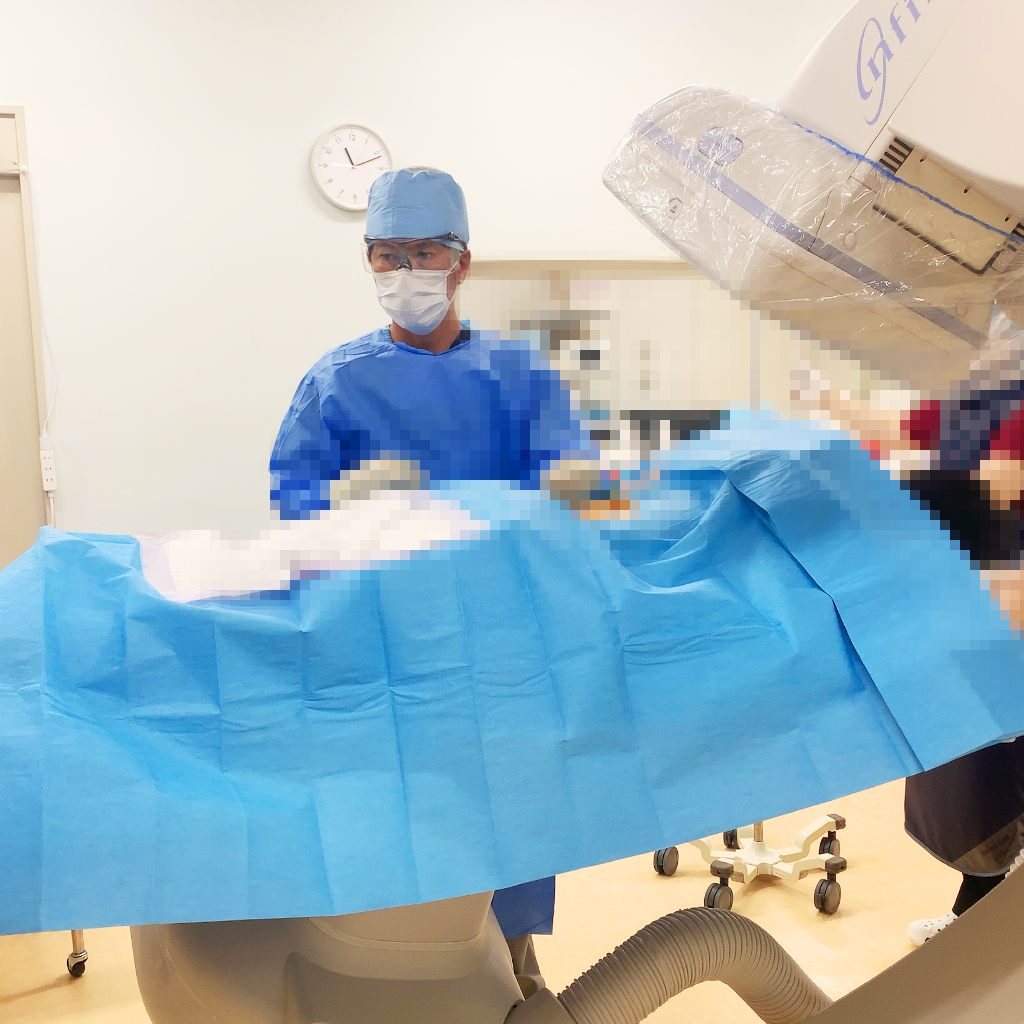 On this photo the treatment needles are being inserted into the intervertebral discs. Within a few minutes, the preparations for examination and treatment were completed.
The video shows the process of examination of the intervertebral disc, which serves as a cushion. The black linear area visible indicates the site of damage, and Discseel Procedure (DST) was performed. The treatment was conducted by Vice Director Ishida, and the duration of the treatment took 19 minutes.
A Message from the Clinic`s Director
Today a patient in his 50s who underwent PLDD (Percutaneous Laser Disc Decompression) three and a half years ago visited our clinic. He has a physically demanding job and is actively involved in sports. However, after he went for some mountain hiking during the Golden Week in May, he started experiencing buttock pain and came for an examination. The MRI examination showed that the previously existing herniated disc had almost disappeared, but inflammation (endplate inflammation of the disc) was observed in some areas. In cases like this, inflammation is expected to improve within two to three weeks. The patient looked relieved after hearing the explanation. Moderate exercise can be good for maintaining body health but symptoms my flare up even after treatment if one overexerts oneself.
Yesterday, the Hanshin Tigers achieved a comeback victory against the Yomiuri Giants, making it their sixth consecutive win. Today's game starts at 2 p.m. but during treatment, I cannot check on it, so I'm feeling a little bit nervous.
About the Author
Clinic Director Dr. Yasuyuki Nonaka
NLC Nonaka Lumbago Clinic offers medical treatment with a combined focus on the spinal conditions that cause low back pain. By introducing advanced treatments from all over the world, we are able to expand the treatment options for patients suffering from back and other spinal diseases, and propose treatment solutions tailored to their symptoms and conditions. Staying focused on diseases such as disc degeneration and disc herniation that cause spinal canal stenosis and back pain, we provide treatments that are less burdensome for elderly patients, for patients considering reoperation, and those seeking to return to society in a short period of time.
Achievement:5,034 Cases
2018.Jun. - 2023.Aug.
---