Patient's Information
Age: 70s
Gender: Female
Conditions and Symptoms
Patient's Condition
The patient has been aware of occasional lower back pain for over 10 years. Recently, she has started suffering with chronic lower back pain, but she has still been able to perform her daily activities. However, at the beginning of this year, she developed numbness in her left leg, which could potentially impact patient's daily life if in case it continues worsening. So, she decided seeking help at our clinic.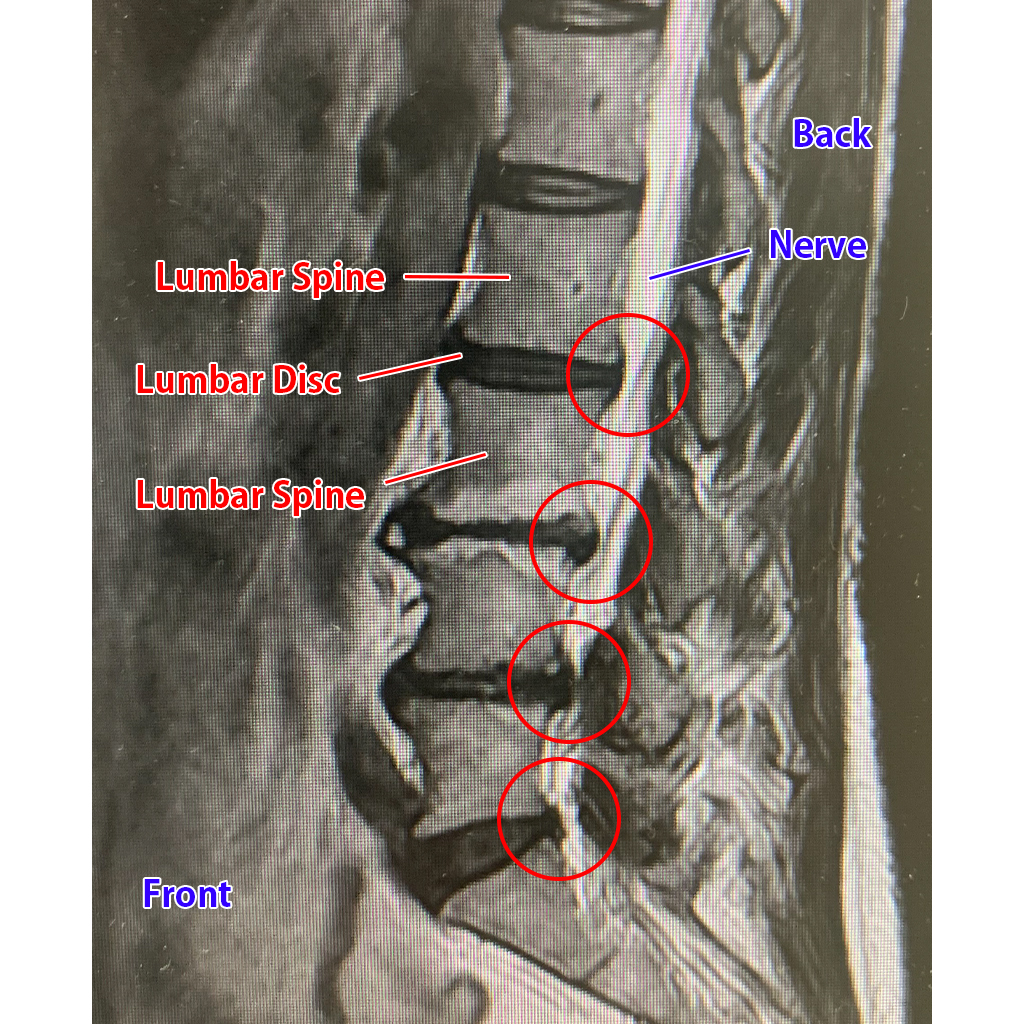 The MRI examination result of the lower back showed that there were more than 3 collapsed intervertebral discs, that have lost their cushioning function and causing inflammation. This condition is referred to as degenerative disc disease and intervertebral disc herniation.
Treatment Content
Discseel Procedure (DST)
Discseel Procedure (DST) was performed on four damaged intervertebral disc levels (L2/L3, L3/L4, L4/L5, L5/S1) aiming to alleviate inflammation, in order to reduce lower back pain and nerve damage.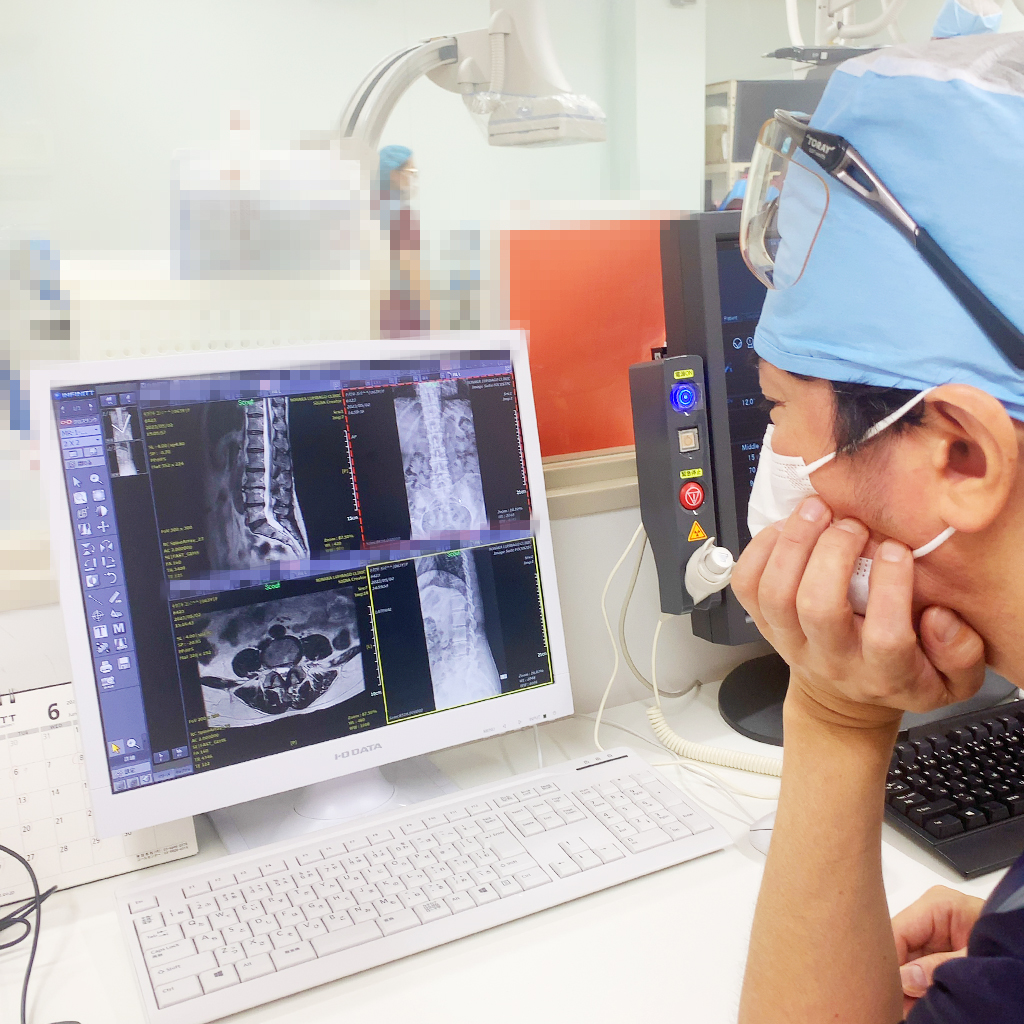 Estimation of intervertebral disc damage based on the MRI images before treatment is quite important.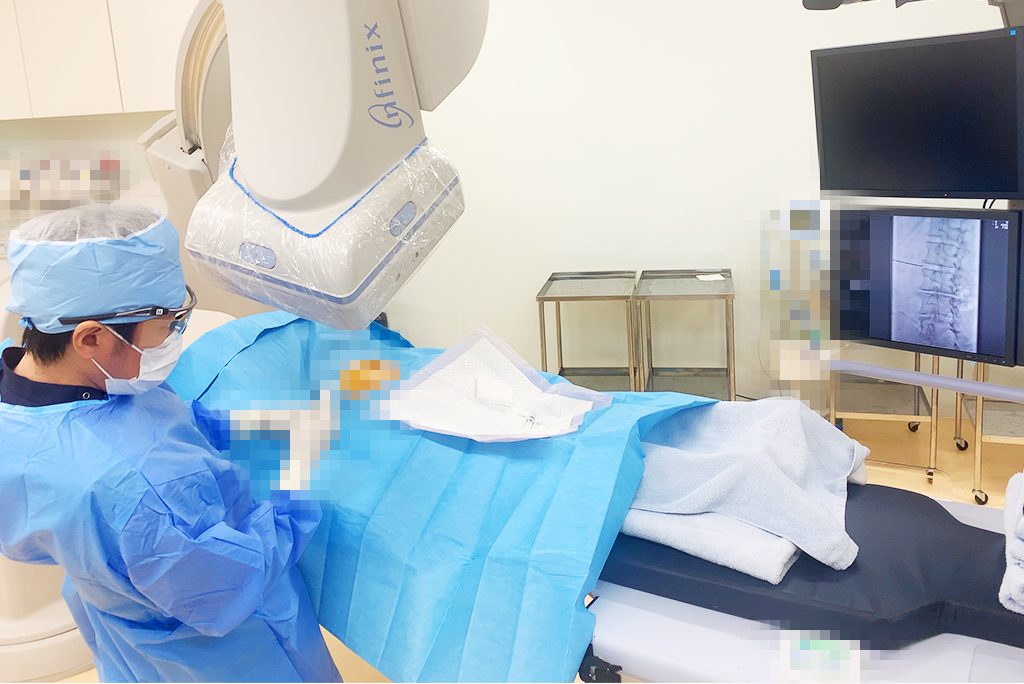 The treatment needle is inserted carefully into the intervertebral disc while performing the anesthesia. Monitor screen is used to confirm the condition of the lower back and ensure the avoidance of nerve and blood vessel damage.
The X-ray machine is rotating around the lower back, confirming the exact position of the treatment needle inside the lower back from various angles.
On the video the intervertebral disc is being examined to assess the extent of the damage. The intervertebral disc treatment was performed right after the contrast test.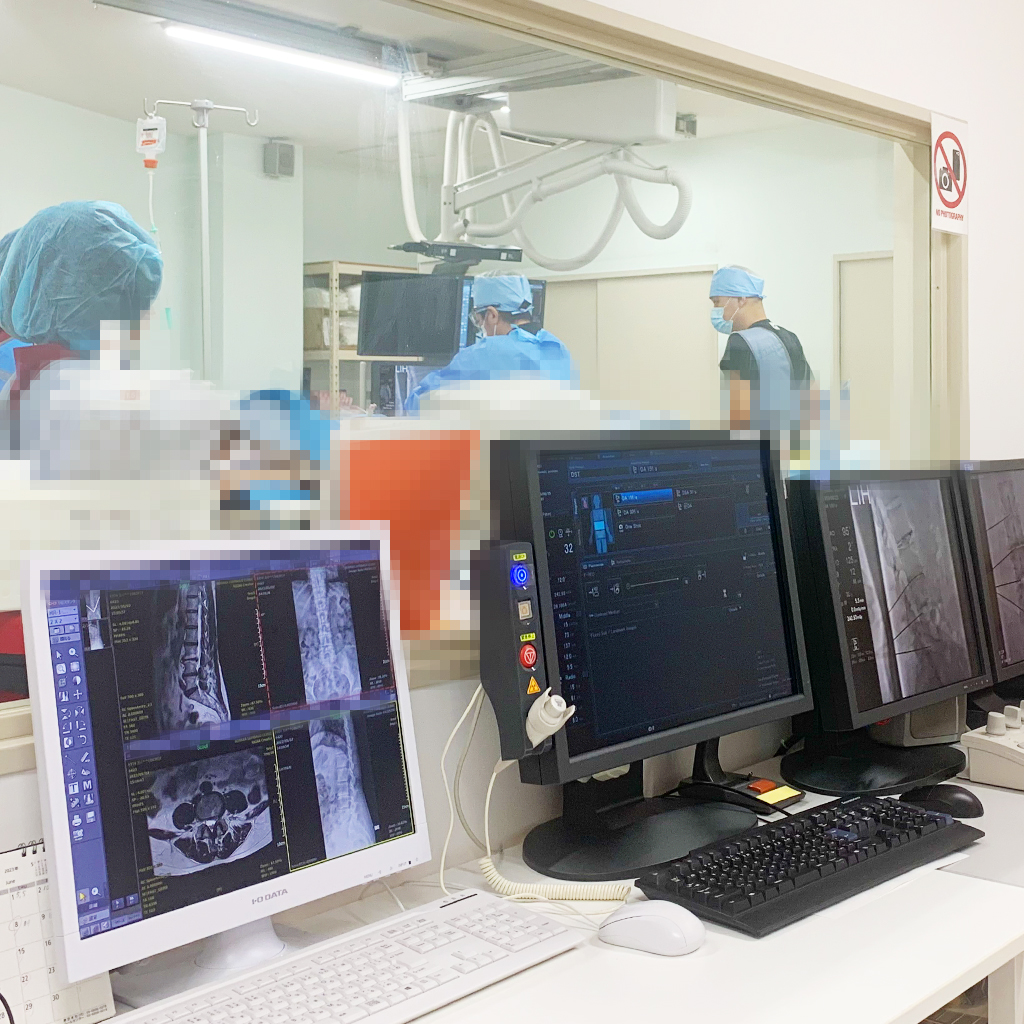 The treatment was completed within 17 minutes.
A Message from the Clinic`s Director
This afternoon, we conducted the SCS outpatient clinic. SCS stands for Spinal Cord Nerve Stimulation Therapy, which is a special treatment for patients whose neuropathy has not improved even after spinal surgery. I have performed numerous SCS surgeries myself and I have been the No. 1 treatment provider in the Kansai region. I have also served as a lecturer in public hospitals etc. While I have experienced various lower back-related treatments, I believe that the intervertebral disc treatment we are currently performing at our clinic is the least risky and most effective treatment available.
Well, there was no Hanshin Tigers game last night, so after dinner I indulged in reading. I was reading a book called "The Secret Account of the Prince's Palace" by Mr. Hideto Ueda. It provides glimpses into the mindset of individuals who do not consider others as human beings in their pursuit of success and highlights the harshness of the competition for success in society. It is often said that medical professionals like us work in a world isolated from the rest of the world, and that many of them are naive and easily deceived by fraudsters due to our lack of worldly knowledge. For this reason, we often receive calls about condominium investments and the like. If doctors were to get a job in a normal company, they would probably not be able to get ahead first. Doctors, on the one hand, can be described as overly kind, but on the other hand, they may also be described as naive and unaware of the ways of the world.
About the Author
Clinic Director Dr. Yasuyuki Nonaka
NLC Nonaka Lumbago Clinic offers medical treatment with a combined focus on the spinal conditions that cause low back pain. By introducing advanced treatments from all over the world, we are able to expand the treatment options for patients suffering from back and other spinal diseases, and propose treatment solutions tailored to their symptoms and conditions. Staying focused on diseases such as disc degeneration and disc herniation that cause spinal canal stenosis and back pain, we provide treatments that are less burdensome for elderly patients, for patients considering reoperation, and those seeking to return to society in a short period of time.
Achievement:5,034 Cases
2018.Jun. - 2023.Aug.
---