Patient's Information
Age: 70s
Gender: Female
Conditions and Symptoms
Patient's Condition
In 2014 the patient was diagnosed with disc herniation and underwent surgical treatment. Symptoms improved after the surgery, and daily life was unaffected. However, since around autumn 2022, she started experiencing nerve pain in her left leg and was diagnosed with a recurrent herniated disc at a nearby hospital. Due to the increased risk associated with a repeat surgery, she sought treatment at our clinic.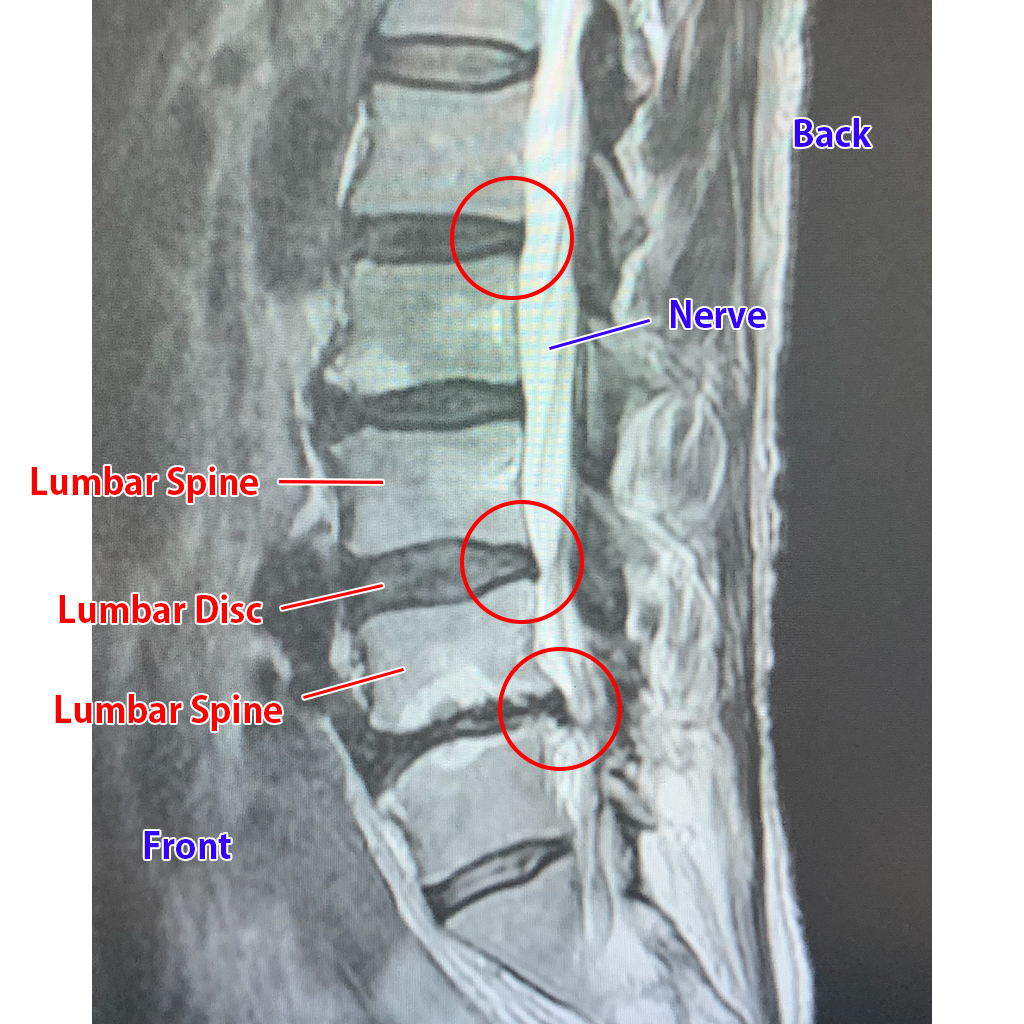 The MRI of the lower back revealed degenerative disc disease, with a collapsed disc between the fifth lumbar vertebra L5 and the sacral vertebra S1. Additionally, the disc content (called the nucleus pulposus) has also protruded close to the nerve, resulting in a prolapsed disc herniation.
Treatment Content
Discseel Procedure (DST)
Examination and repair of three damaged discs (L1/L2, L3/L4, L4/L5) was performed aiming to improve neurological symptoms.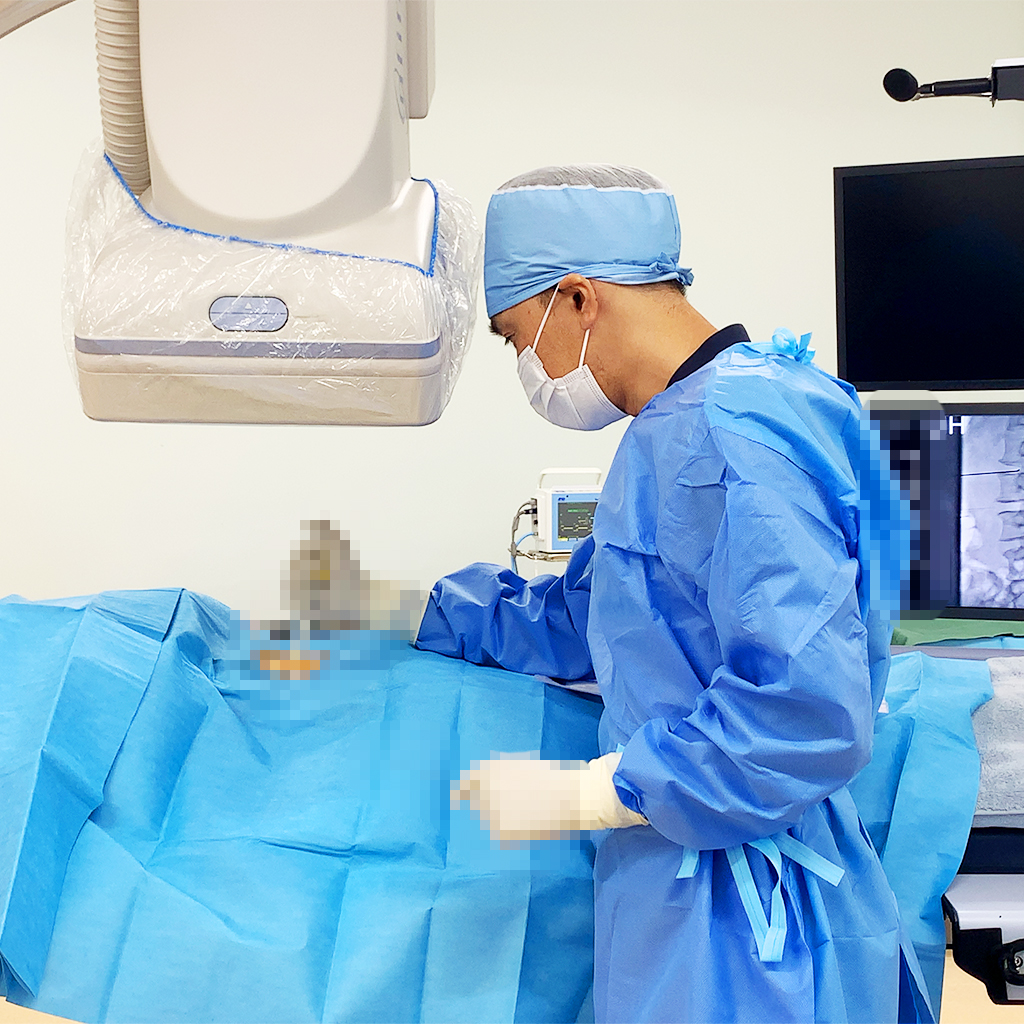 We started the treatment using only local anesthesia in order to be able to explain what was happening during treatment.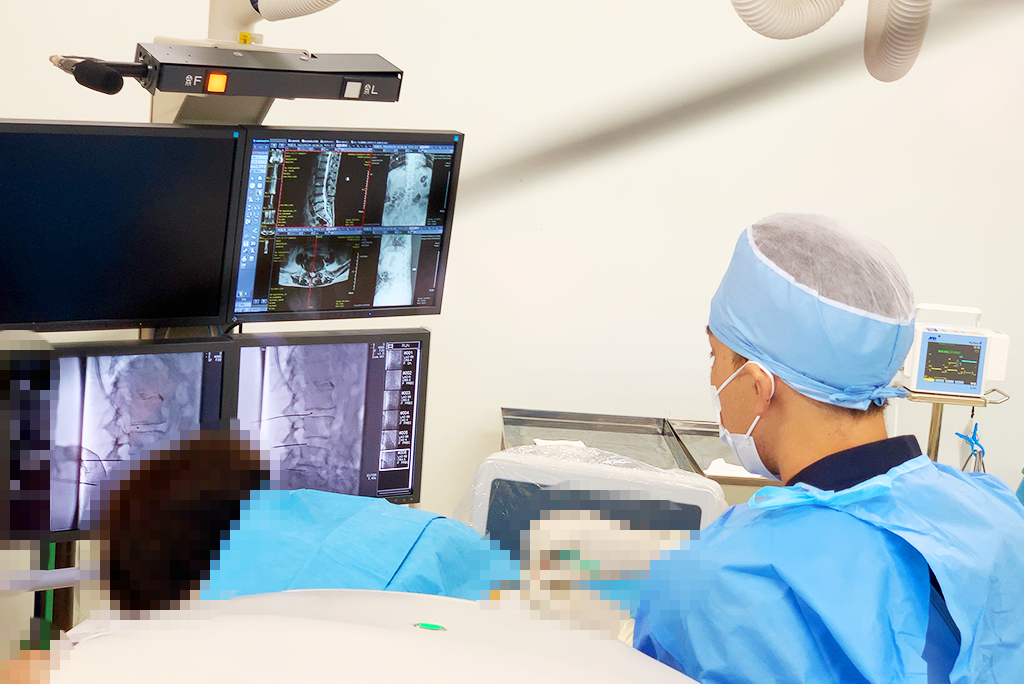 The treatment needle has reached the disc without problems and the patient is being informed about the condition of the discs.
On the video the damaged areas of the intervertebral discs are being identified and treated. It took 15 minutes to complete the treatment. Symptomatic improvement was noticed immediately after the treatment and future results are expected.
A Message from the Clinic`s Director
At our clinic also provide training for treating physicians. Dr. Tomioka is scheduled to begin training soon. Being involved in the education of fellow physicians also contributes to improving one's own skills. Life is only lived once, and if there is something that can be left for future generations, it is essential to have it done. I am dedicated to putting effort into physician education to ensure the satisfaction of our patients. Furthermore, I have heard that Dr. Marumo (deceased) who popularized PLDD (Percutaneous Laser Disc Decompression) in Japan, had a total treatment record exceeding 10,000 cases. I also aspire to follow in the footsteps of Dr. Marumo and work hard.
About the Author
Clinic Director Dr. Yasuyuki Nonaka
NLC Nonaka Lumbago Clinic offers medical treatment with a combined focus on the spinal conditions that cause low back pain. By introducing advanced treatments from all over the world, we are able to expand the treatment options for patients suffering from back and other spinal diseases, and propose treatment solutions tailored to their symptoms and conditions. Staying focused on diseases such as disc degeneration and disc herniation that cause spinal canal stenosis and back pain, we provide treatments that are less burdensome for elderly patients, for patients considering reoperation, and those seeking to return to society in a short period of time.
Achievement:5,034 Cases
2018.Jun. - 2023.Aug.
---