Patient's Information
Age: 70s
Gender: Male
Conditions and Symptoms
Patient's Condition
Since around April of this year, the patient has been experiencing frequent episodes of lower back pain after playing golf or engaging in activities that put a strain on the back, such as yard work. He had received treatment at a nearby orthopedic clinic with medication but experienced limited improvement. Concerned about his future ability to perform physical activities freely, he decided to seek treatment at our clinic.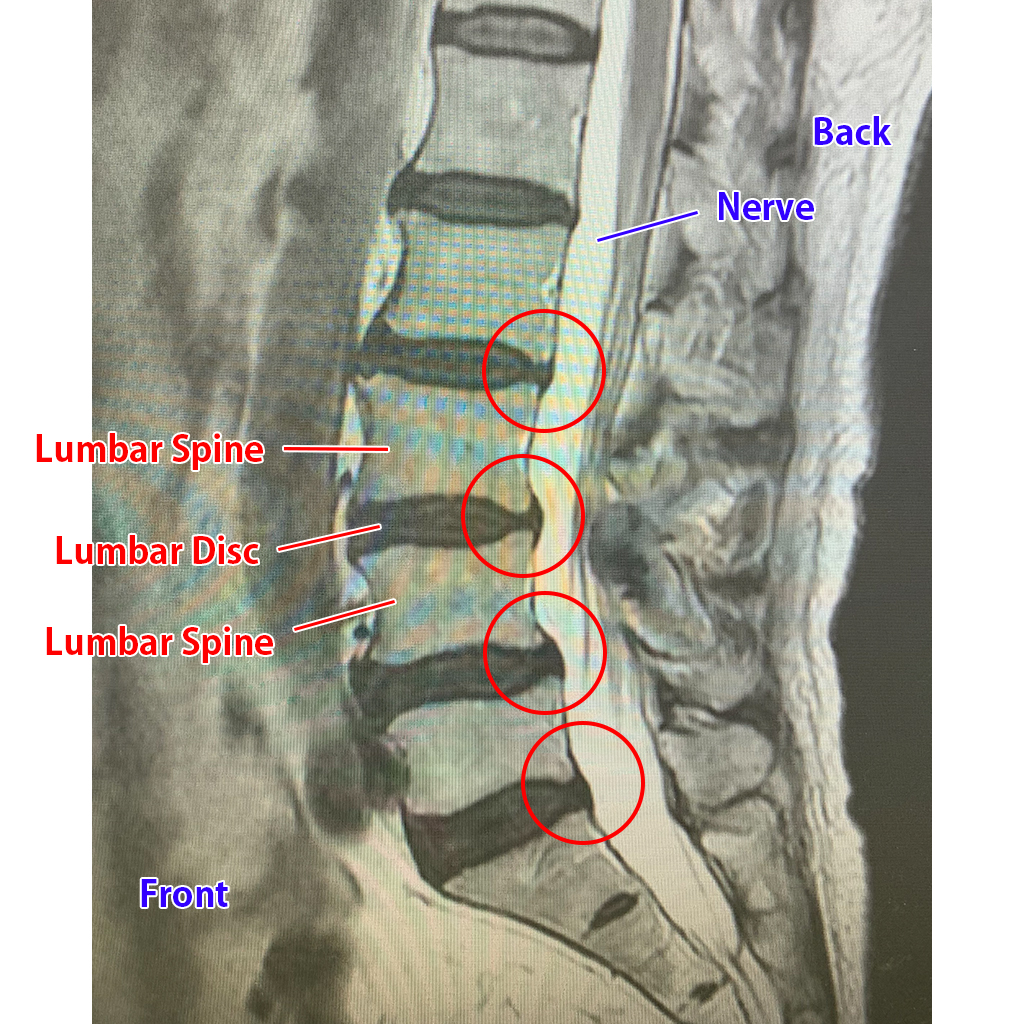 The MRI scan of the lower back reveals deformation in the intervertebral discs from the second lumbar vertebra L/1 to the first sacral vertebra S/1. Protrusions of the discs accompanied by decreased disc height correspond to a condition known as disc herniation and degeneration (Stage IV).
Treatment Content
Discseel Procedure (DST)
Contrast examination was performed to determine the location of possible disc damage and cracks in the fiber rings of four discs (L2/L3, L3/L4, L4/L5, and L5/S1) were confirmed and treated with the Discseel Procedure (DST).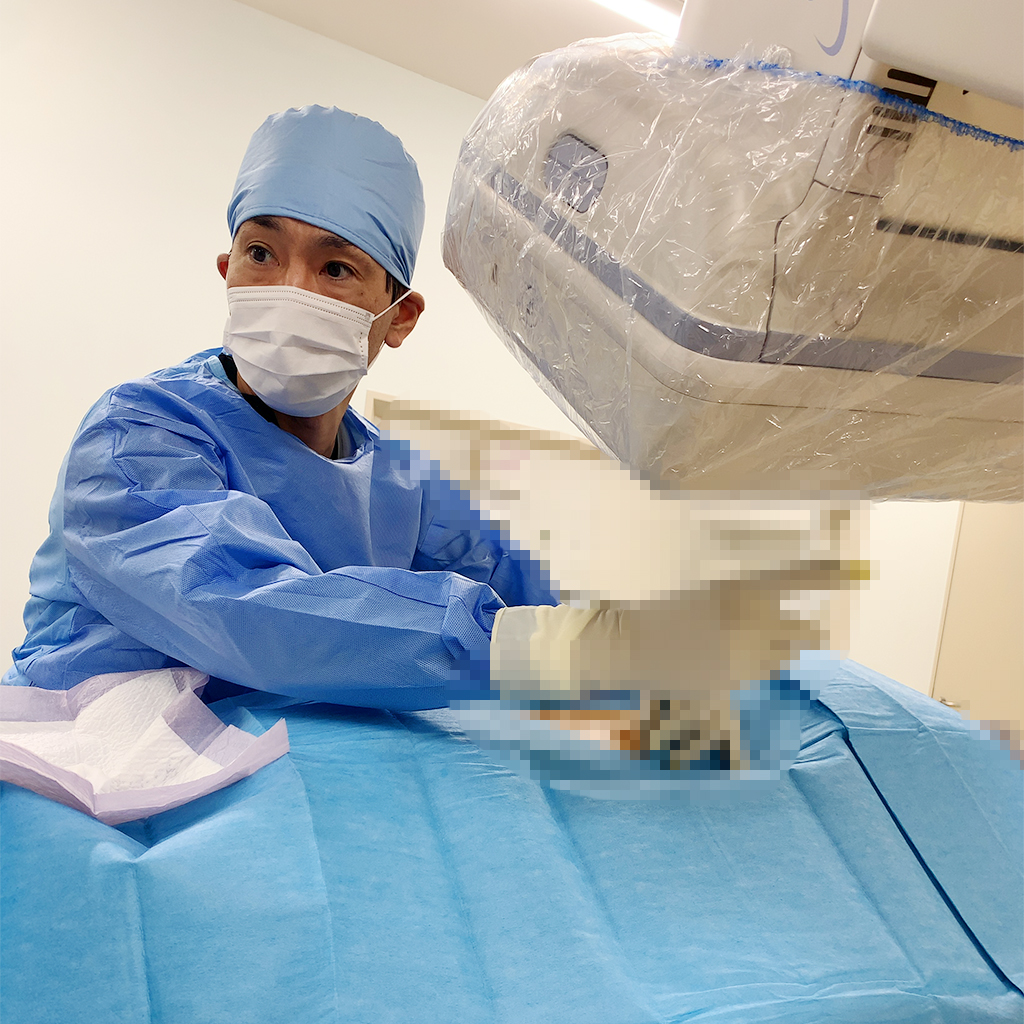 Local anesthesia is administered before the treatment. Since we use very thin needles, patients usually experience almost no pain.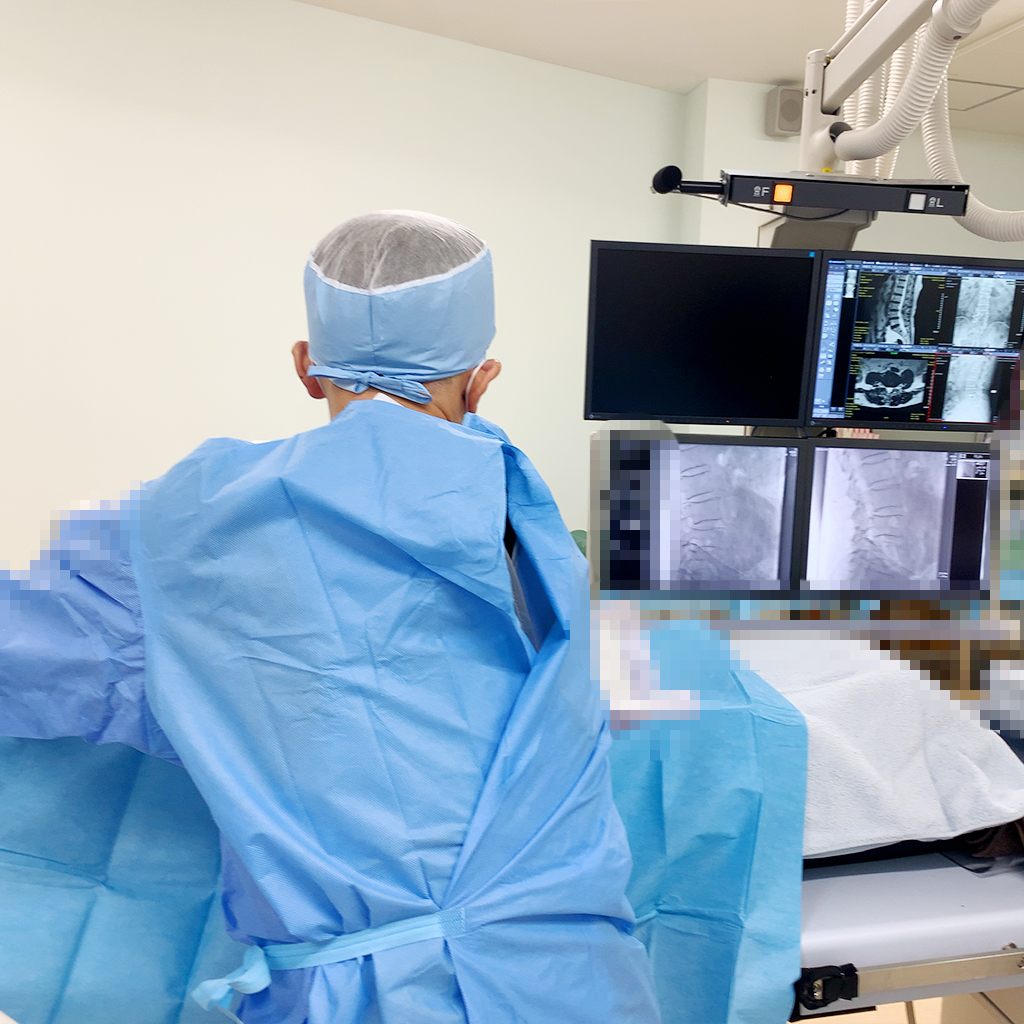 During the insertion of the treatment needle, numbness occurred in the right leg. Although temporary, the patient was slightly surprised.
The damaged areas inside the disc appear as dark spots on the screen during the contrast agent test. The treatment duration was approximately 18 minutes.
A Message from the Clinic`s Director
Today, a patient who received outpatient treatment about a year ago visited our clinic. His neuralgia and lower back pain have improved, but he came for a check-up to ensure there are no issues. After the examination and tests, no problems were found, and we advised him to continue to exercise and to build up his core muscle strength.
About the Author
Clinic Director Dr. Yasuyuki Nonaka
NLC Nonaka Lumbago Clinic offers medical treatment with a combined focus on the spinal conditions that cause low back pain. By introducing advanced treatments from all over the world, we are able to expand the treatment options for patients suffering from back and other spinal diseases, and propose treatment solutions tailored to their symptoms and conditions. Staying focused on diseases such as disc degeneration and disc herniation that cause spinal canal stenosis and back pain, we provide treatments that are less burdensome for elderly patients, for patients considering reoperation, and those seeking to return to society in a short period of time.
Achievement:5,034 Cases
2018.Jun. - 2023.Aug.
---